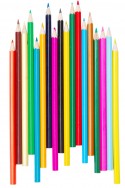 Stress is no friend of a pretty face—or any other body part for that matter—but bidding it farewell may be easier said than done.
At least until now . . . drumroll . . .
The latest weapon in the anti-aging arsenal is a childhood favorite with a sophisticated twist, a stress-reliever extraordinaire . . .
Adult coloring books!
I kid you not (no pun intended). Adult coloring books are the latest genre to hit the global book shelf, thanks to the publication of Secret Garden: An Inky Treasure Hunt and Coloring Book
, a 2013 game changer that's filled with more than 80 intricate illustrations by Johanna Basford, a young Scottish illustrator.
The book's allure?
Coloring enthusiasts claim that (adult!) coloring is a relaxing stress reducer capable of transporting the colorer to a state of calm and tranquility—with a little creative fun thrown into the mix.  Indeed.  Colorers use words like "inspirational," "meditative," "soothing" and "Zen" to describe their love of coloring.
Some say it's an opportunity to "unwind" and "self-express" and cite its ability to help "unplug" in a society saturated with technology.
It's even spawned coloring clubs and events—like the evening of "Coloring and Cocktails" hosted by one clever Colorado bookstore.
Basford, in her early 30s, had no idea she'd be making publishing history when she was approached by a publishing house to create illustrations for a children's coloring book, and suggested a more sophisticated version, instead.
Neither she, nor her publisher, anticipated the response, as evidenced by an initial print run of only 16,000 or so copies.  (Basford's back-up plan was to have her mother "buy a lot . . . just to save face.")
They needn't have worried.  That first book is now available in more than 20 languages and has racked up $6.8 million in sales, according to a recent tally.  It's also inspired a generation of artists to join the adult coloring book ranks.
Some have cut right to the chase, choosing titles like Color Me Calm
and Color Me Stress-Free
, while others have focused on a myriad of topics—flowers
, butterflies
, cities
(real and imagined!), cars
, owls
, paisleys
and cats
, to name a few.
As for Basford, she's followed her success with the publication of Enchanted Forest: An Inky Quest & Coloring Book
and Lost Ocean: An Inky Adventure and Coloring Book
; as well as items like Secret Garden Postcards
; and, according to her Facebook page, she's currently working on a Christmas-themed coloring book.
Although prices vary, many adult coloring books cost more than their childhood counterparts—as high as $15.95 for Basford's creations—but the price is reflective of the intricacy of the illustrations and the quality of printing and paper.  Some even feature one-sided designs!
So . . . Whether you're looking to de-stress, or simply rediscover your inner child, grab a handful of crayons
, gel pens
or colored pencils
. . . and relax . . . adult coloring is as easy as child's play.
And . . . your face (and your body!) just might thank you for it!
Copyright 2015-2016 Jonna Crispens.  All rights reserved.