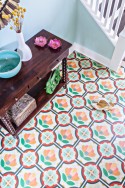 Ever since I watched Mary McDonald
of Bravo TV's Million Dollar Decorators fame paint a drab wooden floor a colorful, chevron pattern, I've been hooked.
There's something so unexpected, bold and fresh about a painted wooden floor that dazzles. It defies convention, strutting its stuff like a peacock proudly displaying its patterns and colors, daring anyone—or any thing—to upstage it.
Far more than a surface connecting Points A and B, it speaks volumes . . . and it takes my breath away.
In fact, the thought of turning my home office floor into a colorful palette of pure inspiration is enough to make me swoon.
And yet, tackling such an elaborate task —even with a simple design—takes a certain type of person, of which . . . I am (most certainly!) not.   The time, the (artistic!) talent, the patience . . . just a few of the reasons why a floor painted in some amazing pattern has always seemed beyond my reach.
But that was before I stumbled upon a little snippet in Traditional Home
magazine's October 2014 issue on Mirth Studio in Charleston, S.C.
The company, the brainstorm of artist and interior designer Sally Bennett, has gone where no flooring company has gone before. It's identified a home décor niche so exciting that it's bound to reinvent the way we decorate.
In short, it's taken "painted hardwood floors" to the masses!
It's created all sorts of gorgeous in highly durable, easy-to-install, decorative wooden floor tiles.  (After all, anyone can have a decorative ceramic tile, but few—at least until now—could have the same look in the warmth and feel of wood.)
The company's line, which debuted in March 2014, features a dizzying array of styles and colors—and even offers customization services. (In other words, you can create your own design!)
Collections bear names like Classic, Urban Geometrics, Timeless Graphics and Sally Bennett Signature and include designs like the Turkish-inspired Blossom, which features "groovy pop images straight out of the 60s,"; the sweetly bold Poppy, which comes in two color combinations—think coral and mint—for a checkerboard effect; and the softly elegant Concentric, an ever-diminishing pattern of squares with alternating colors of light blue and cream.
Offered in 12-x-12-inch squares, the tiles utilize the "latest advances in printing and screening combined with a proprietary sealing process" (think 10 coats of "non-yellowing, UV cured resin urethane") and are made of engineered hardwood guaranteed to resist warping and buckling.  (So confident is the company in the durability of its product, that it offers a 25-year-guarantee for residential use.)
As for installation, the tiles feature an easy-to-install tongue and groove construction for added stability and can be glued over most sub-flooring—concrete or wood.
But there's more to Mirth Studio than pretty floors.
According to the company website, the tiles can be used on ceilings (imagine the possibilities!), as well as walls! In fact, the company is working on a wall collection (in 6-x-6-inch squares and 6-x-3-inch rectangles) for use as backsplashes and fireplace borders.
It's also introduced a collection of stair risers, as well as a collection of portable flooring that can be assembled on-site for weddings and other events.
And if that weren't enough, all Mirth Studio tiles are manufactured in the United States, using only domestic oak and maple—hardwood species in abundant supply.
To find out more about Mirth Studio—its products, its environmental responsibility—and the amazing path that led Sally Bennett to form the company, visit www.MirthStudio.com.
You'll be just as floored as I!
Copyright 2014-2016 Jonna Crispens. All rights reserved.